Signing up for Premium Account
For those with advanced radio needs, move onto the next level of radio management with the premium package at listen2myradio.
EVERY PREMIUM ACCOUNT INCLUDE
99.9% Uptime
24/7 Online Support
3 High-Speed
Server Locations


(US,UK,DE)

Instant Setup
Centova Cast Control Panel

The best user-friendly shoutcast panel on the market, including easy web-based stream configuration, comprehensive statistics and royalty reports, automatic stream monitoring/restarting, feature-rich default station home pages and much more…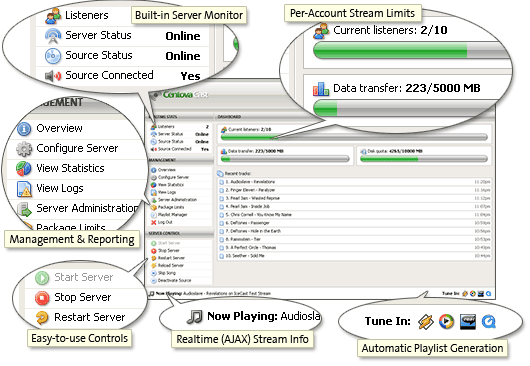 Full SHOUTcast server control
Full Shoutcast control is the best control option around, allowing you to change passwords, start/stop, restart, reload server, and even upload introduction and fallback files. Choose your title and URL formats, manage how you appear in the shoutcast directory and many more options.
Unlimited Bandwidth
listen2myradio has NO LIMIT on bandwidth. We do not share our server with anyone else, so there's nothing standing between you and a fantastic connection.



5 GB Auto DJ storage

Stash up to 5GB of mp3 files on your account to use with AutoDJ. AutoDJ is system allowing you to play your files even if you're not there. Perfect for the graveyard shift, or if you're not streaming live. 5GB not enough for you? Just open a support ticket and ask to upgrade.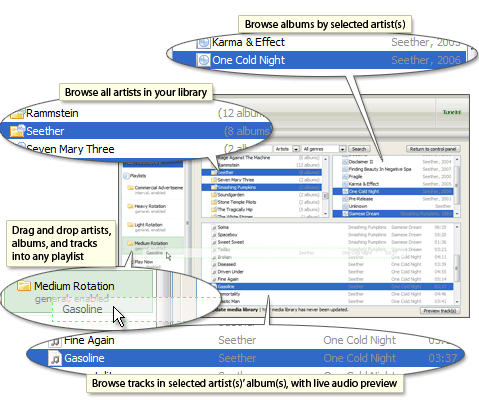 Powerful Playlist Scheduler

AutoDJ comes with a state of the art playlist management scheduler and drag-and-drop AJAX media library. Build different kinds of playlist with different typs of rotation, choose your interval music and schedule your music with this easy-to-use system.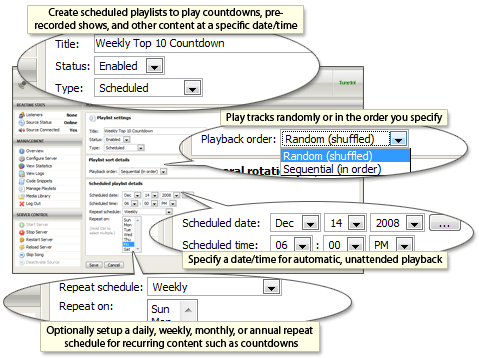 Port 80 Streaming
Many firewalls and internet providers block ports to control viruses. To offer optimum radio streaming, we automatically install port 80 for all accounts. That is the same port used for web browsing and downloads so it's open to everyone, just like your radio should be.
Flash Player / WMV Player
To be sure everyone can listen to you, use Flash Player for Macs and Windows Media Player for PC computers. We also provide links for three other players: Winamp, Real Player, and Quicktime.


Start Page & Code Snippets

Every radio comes with code snippets that you can use in your own page, like Stream Status Summary, Recent Tracks and Song Requests. Recent Tracks are automatically shown with the album cover image from Amazon library. The start page is a simple non-modifiable listening page.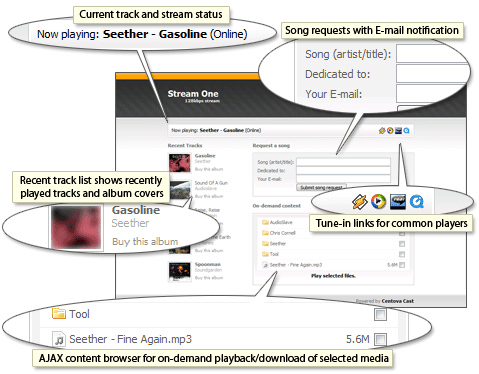 Detailed Analysis & Statistics

Find out exactly where your listeners are from, what player they use and how much time they tuned in. You can also see your Popular Tracks and more info, all with easy-to-read graphs and graphics.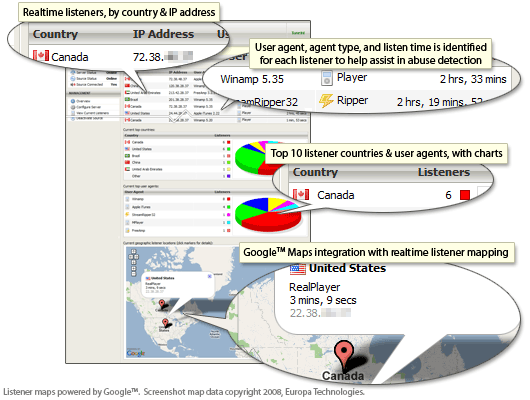 Payment Type
We accept payment via Paypal, Credit Card, Bank Transfer (depending on country), Western Union (for amounts greater than $100).
CHOOSE YOUR PACKAGE
Radio Streaming
SHOUTcast 2
Monthly Price

$

50
Number of Listeners

Details 10 Listeners
Details 25 Listeners
Details 50 Listeners
Details 75 Listeners
Details 100 Listeners
Details 150 Listeners
Details 200 Listeners
Details 300 Listeners
Details 400 Listeners
Details 500 Listeners
Details 1000 Listeners

Line For Quality

Details 32kbps | Phone Quality
Details 64kbps | Medium Quality
Details 96kbps | Medium Plus Quality
Details 128kbps | CD Quality

Server Location

Details Germany
Details United States
Details United Kingdom
Details Singapore
Order now
* don't see the sliders or the prices? click here to order
* for packages with more listeners or higher bitrate please contact us